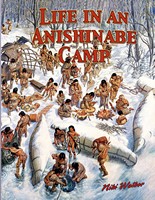 LIFE in an ANISHINABE CAMP
by Nike Walker
A well rounded source of Native American (Ojibwa) information. Tells about setting up camp, children's activities, games, food and clothing. Very good color artwork illustrates the text. Glossary and index. ©2003. 8.25 x 10.5.32 pages. Paperback.

[3H3.0.4, 3H3.0.6]
NATIVE AMERICAN GAMES AND STORIES by James and Joseph Bruchac
Games and stories authored by two accomplished storytellers. Seven intriguing stories and 13 fun-filled games give students insight into the beliefs and entertainment of the Native Americans. Black and white art. Brief bibliography. Index. ©2000. 7 x 9.86 pages. Paperback.

[3H3.0.4]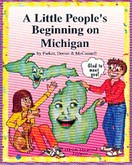 LITTLE PEOPLE'S BEGINNING ON MICHIGAN
by Parker, Deeter & McConnell
A popular way to introduce 1st & 2nd grades to several of the early elementary social studies concepts. Learn about our shape, where we are, the two peninsulas, the Great Lakes, Mackinac Bridge, the state capital, our resources and products, our state symbols and the state flag. 2002 edition. 8.5 x 11. 28 pages. REPRODUCIBLE