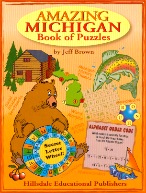 A good review of general Michigan History Themes.
School Price $6.99
AMAZING MICHIGAN-BOOK of PUZZLES
by Jeff Brown
Jeff Brown is a master of the puzzle. Here is a unique collection of over 24 types of puzzle activities which incorporate social studies benchmarks and history themes. Let learning about our state be a fun experience! Your 4th, 5th and 6th grade students will love to put their minds to work unraveling secret codes, finding hidden words, doing word matching, crosswords, and more! These puzzles help review Michigan history, geography and government.
© 2002. size 8.5 x 11. 48 pages. Paperback. (Grades 3-4)
REPRODUCIBLE. (Call for quantity discounts)



[3G4.01, 3G4.03, 3G5.0.1, 3G5.0.2]
---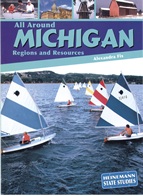 ALL AROUND MICHIGAN
Regions and Resources
by Alexandra Fix
In this colorful book the state is divided into five regions and key facts about each are discussed. Included are climate, agriculture, industry, tourism and the people which make our state so interesting. Glossary and index are included. ©2004. 7.5 x 10.25. 48 pages. Paperback. (Better 3rd grade reading level.)

[3G2.0.1, 3G2.0.2]
---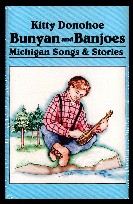 BUNYAN AND BANJOES by Kitty Donohoe
This collection of 13 traditional and contemporary Michigan songs and stories is designed for children ages preschool through grade 6, and all music-loving adults. With CD. 35 minutes. © 1987.
| | |
| --- | --- |
| CD AND 48 page Teacher's Activity Book w/Songs | $19.95 |

[3H3.0.7]
---
CD included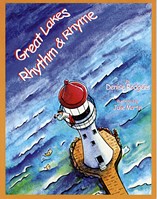 GREAT LAKES RHYTHM & RHYME
by Denise Rodgers and illustrated by Julie Martin
A neat little poetry book for younger students with a musical CD to make the poems even more fun. Great Lakes area history and geography is put to rhyme and rhythm in 53 poems covering subjects from apple picking to zebra mussels. Each poem illustrated with cute two color art. Index. ©2003. 7 x 9.60 pages. Paperback. Grades 3-4.



[3G4.0.1]
---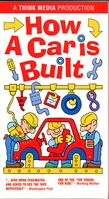 DVD
School Price $19.95
HOW A CAR IS BUILT
(Elementary version)
Video by Think Media

The automotive industry touches nearly every Michiganian; yet, how many have seen how a car is made? This well-designed video takes kids right to the assembly line. An animated parrot character guides them along as they see how giant rolls of steel are transformed into gleaming new Ford Mustangs. Done in a way even the 1st graders can understand! This video has won several honors. 30 minutes ©1995.

[3G4.0.1]
---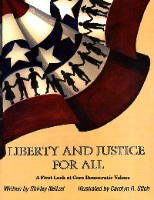 School Price $9.95
Teacher's Guide $8.95
LIBERTY AND JUSTICE FOR ALL
by Shirley Neitzel
Provides an excellent introduction to 10 Core Democratic Values. Each value is presented in a thoughtfully written short story designed to teach its content, meaning, and significance. The illustrations are visually appealing. A separate 32 page teacher's guide has reproducible activity sheets which offer helpful preparation for the social studies MEAP. ©2002. 8.5 x 11. 48 pages. Paperback. Grades 3-4. Teacher's Guide with 17 REPRODUCIBLE activities.

[3G5.0.1]
---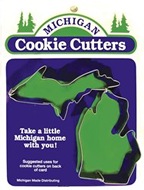 MICHIGAN COOKIE CUTTERS

One cutter for each Peninsula. Introduce 3rd graders to Michigan geography using cookies. Bake the edible kind or use salt dough for a long lasting display.
Made of Metal. L.P. 3.25 x 4.5, U.P. 5 x 1.25

[3G1.0.2]
---
| | |
| --- | --- |
| | [3G4.01] |
MICHIGAN DAILIES
180 Activities for Kids
by Carole Marsh

One quick reproducible activity for each day of the school year.

Use as a sponge activity to fill in free moments during the day. Well suited for 4th grade. Each activity focuses on Michigan. Examples are: our fruit belt, the Mackinac Bridge, settlers using the Erie Canal. ©2006. Spiral bound. REPRODUCIBLE.

(These short activities are a good review of numerous social studies later elementary level benchmarks from the historical, geographical and civic perspectives.)
---
[3H3.10, 3G1.0.2, 3G4.0.1]


MICHIGAN EXPERIENCE POSTER
by Carole Marsh

Folded full color poster contains a map showing agricultural, fishing and mining sites in Michigan. It includes pictures of Michigan places and things, timeline, sentence biographies of famous Michiganians, geography trivia and state symbols. Bright colors make it attractive to the eye. Material correlates with social studies concepts.
34" x 22". Folded
---

MICHIGAN TIMELINE of Awesome Achievements and Events
by Carole Marsh

Every 3rd grade classroom should have one! Over 8 feet long and 11" tall. Helps students keep historical events in their proper order. Add pizzazz to your classroom. 50 Michigan events from 1618 to 2003. In color. Printed on card stock. 3 sections.

[3H3.0.10]
School Price $12.95
---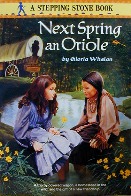 NEXT SPRING AN ORIOLE
by Gloria Whelan
The first in a sequel of three books about young pioneer Libby Mitchell who moves to Michigan in a covered wagon when she is 10 years old. The story begins on April 3, 1837. Once she arrives in Michigan, Libby meets Taw cum e qua who is later known as Fawn. Fawn is a Potawatomi girl who becomes her best friend. Libby learns much about the fate of this tribe who will soon be forced off their land. ©1987. 5.25 x 7.5. 60 pages. Paperback.

[3H3.0.6]
---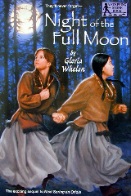 NIGHT OF THE FULL MOON
by Gloria Whelan
Pioneer girl Libby Mitchell's best friend belonged to a nearby Potawatomi tribe. Libby often wished that she could be part of the tribe too. One terrifying day her wish came true when soldiers came. Mistaken for an Indian, Libby was taken with the tribe as they were removed from their land. Gives insight into two cultures living side by side in early 19th century Michigan. Nicely illustrated. ©1993. 6 x 9. 62 Pages. Paperback.

[3H3.0.6]
---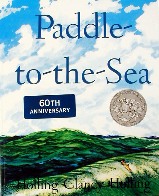 PADDLE-to-the-SEA
By Holling C. Holling. (Caldecott Honor Book)
This classic has received renewed interest because of the whole language approach to teaching Michigan studies in the elementary grades. Paddle-to-the-Sea provides initial introduction to major social studies concepts— geography, ecology, economics, and more. Students will be enthralled by the Soo Locks, forest fires, and shipwrecks. Very nice color illustrations. ©1941. 8.5 x 11. 64 Pages. Paperback. Grades 2-5 (Reading level grade 4.5-5)

[3G5.0.2]
---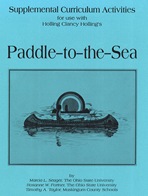 School price $10.95
PADDLE-to-the-SEA
Curriculum Activities
By Seager, Fortner & Taylor
Class-room-ready readings, worksheets, games, diagrams and complete instructions for teach use. Integrates social studies, math, science and language arts. ©1987. 8.5 x 11. 168 Pages in a 3 ring binder.
---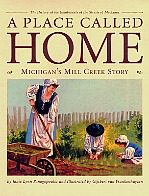 A PLACE CALLED HOME: Michigan's Mill Creek Story
by Janie Lynn Panagopoulos
Mill Creek is the site of a sawmill desperately needed to supply wood for homes as people move to Mackinac Island during the American Revolution. Right away readers are introduced to the Campbell family and the tall British soldier in his bright red uniform! Beautiful full color art. Glossary & timeline. Created with the Mackinac Island Parks Commission. ©2001. 9.25 x 11.25. 50 pages. Hardcover. Grades 43-4.

[3H3.0.7]
---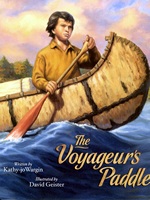 VOYAGEUR'S PADDLE
by Kathy-jo Wargin
& Illustrated by David Geister.
This well illustrated book takes young students back more than 200 years to the time of the French fur traders, the voyageurs and the Native American trappers. Readers learn about daily life and the interaction between the two cultures. ©2007. 9.25 x ll.25. 38 pages. Grades 3-4. Hardcover.

[3H3.0.5, 3H3.0.6, 3H3.0.7]