HOW A CAR IS BUILT
(Elementary version)
Video by Think Media

The automotive industry touches nearly every Michiganian; yet, how many have seen how a car is made? This well-designed video takes kids right to the assembly line. An animated parrot character guides them along as they see how giant rolls of steel are transformed into gleaming new Ford Mustangs. Done in a way even the 1st graders can understand! This video has won several honors. 30 minutes ©1995.

[3G4.0.1]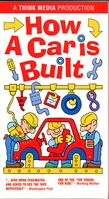 UNDERSTANDING OUR CORE DEMOCRATIC VALUES
Video by Dream Tank Entertainment
Are your kids struggling to grasp the values which built our nation? Join this video classroom and hear the teacher and students discuss 10 core democratic values. Justice, Popular Sovereignty, Common Good, Life, Pursuit of Happiness, Liberty, Equality, Diversity, Truth and Patriotism are explained using 3rd and 4th grade life examples. Roady, an eagle puppet aids in the discussion. © 2001. VHS 19 minutes. (3rd & 4th grade)

[3C5.0.1]
VHS video
Special Price $14.95
THE VOYAGEURS - Men of the Fur Trade

by Upper Midwest Media
See the fur trade story come to life. Help your students understand how the demand for furs brought the traders and voyageurs deep into North America. Learn what it was like for these men during the, tough voyage into the Great Lakes. Discover the food they ate, the canoes they used, the wages they earned and the places they visited. 22 minutes. DVD. © 2006.

[3H3.0.5, 3H3.0.6, 3H3.0.7]