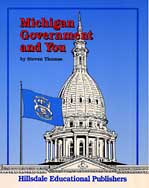 Makes state and local government interesting and relevant for your students!
MICHIGAN GOVERNMENT
AND YOU!

by Steven Thomas
A real life skills builder. Help students understand how state and local government affects their lives and how they can have a positive interaction with government on the local level. Easy to read. Includes chapters on county, township, city and village government; school districts, local budgeting, voting, and more. 14 Chapters. 8 x 10. Over 300 pages. (High School and up).

Click here for the table of contents.
Digital Edition for classroom adoption
Call for pricing
517-437-3179


Teacher's Guide. Contains key concepts, section outlines, vocabulary words, answers to questions and vocabulary word crossword puzzles, plus student research worksheets. 128 pages. Loose leaf.

$15.95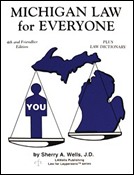 MICHIGAN LAW FOR EVERYONE
by Sherry Wells, J.D.

Great supplement to "street law" courses with information specific to our state. Provides 18 chapters - each focusing on an important topic. Includes probate law, criminal procedure, alternatives to litigation plus information on "lawyering" and related occupations. Has 46-page legal dictionary. 8.5 x 11. 197 pages. Paperback. (High school and up) ©2002
| | |
| --- | --- |
| | School Price $14.95 |
| Teacher's Guide for Mich. Law | School Price $4.00 |