A great accompaniment for Michigan's Story

Middle School MAP LESSONS
by Linda Ecklund

15 lessons in this set enhance the concepts in Michigan's Story. 75 pages in 3 ring binder.

Lessons use a beautiful 18 by 23 inch, two sided, very detailed, full color laminated map. A great addition to any Michigan unit! Students can see the places they are studying. Land elevation, population density, land use, international and state boundaries, locations of rivers and lakes, and much more are shown. Skills can be introduced, applied and practiced.
A set of lessons is free with each 25 maps ordered.
(order ML7) $24.95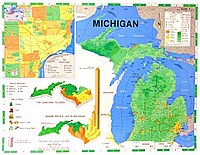 SIDE 1 shows Michigan and the Great Lakes along with an inset map of the Detroit Metro area.
SIDE 2 shows the entire Great Lakes Region from Wisconsin to the mouth of the St. Lawrence River!